A Wellness Break to Restore the Soul
The most important aspect of any wellness break is the ability to feel totally relaxed and disconnected from the rush of daily life. At Rivercatcher, this is easier than ever.
Surrounded by stunning natural landscapes, our beautiful cottages and cabins allow you to escape the hustle and bustle of daily life. As soon as you arrive at Rivercatcher you can disconnect, switch off and relax in the peaceful Welsh countryside.
Whether it's yoga, wild swimming, foraging or simply getting back in touch with nature, the beautiful untouched wilderness on our doorstep gives you the perfect opportunity to slow down, take a breath and restore your energy. Listen to the soothing sounds of water crashing on ancient rock at Pistyll Rhaeadr Waterfall (the largest in Britain), or take to the water itself with activities such as paddle boarding and kayaking available in the many lakes and nearby rivers.
Here's what's on offer around Rivercatcher:
Close to Llandrillo

Pistyll Rhaeadr is an enchanting waterfall in the Berwyn Mountains. At 240ft (80m) high it is Britain's tallest single-drop waterfall, captivating all who visit her.
Take a day trip to experience the spirit and presence of this special and unique place. Many visitors mention how quickly they find peace and reverence within themselves, seldom found in our busy and fragmented modern world. Pistyll Rhaeadr is an untouched natural gem on our Rivercatcher doorstep.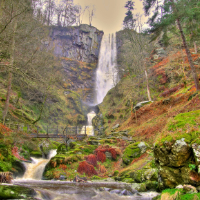 AT A GLANCE
Parking Price: £5-10
Perfect for: Peaceful walks through beautiful scenery and reconnecting with the natural world.

Yoga retreats are the perfect healing holiday. They're suitable to people of all ages and can easily be adapted to suit any level of fitness.
On a retreat, yoga teachers are able to safely guide and advise you on the best movements, poses and exercises based on your body's needs. This is the ideal opportunity to learn from experts and integrate a healthier way of life.
De-stress, relax and get your body in tune with your mind in beautiful nature. .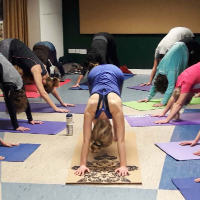 AT A GLANCE
Perfect for: Yoga retreats suitable for all ages and abilities, whether you're a complete beginner looking for the perfect introduction to Yoga, or a seasoned expert looking to take your Yoga to a higher level, we can cater for your needs and make sure you get the support you need.
Wind down and relax at Rivercatcher with our range of on site Spa Treatments provided by Love Pamper
. All treatments are carried out by experienced professionals who will put you at total ease, giving you the time and space to relax and recharge. On site spa treatments are the perfect way to further unwind and maximise your experience when staying with us,
AT A GLANCE
Perfect for: Guests who want to completely unwind and treat themselves to the most luxurious experience we offer. Experience unparalleled comfort in the most beautiful of settings.
Set your own pace… Reconnect with the natural world with miles and miles of walks through the stunning Welsh scenery. Challenging, majestic hikes in Snowdonia, cleansing rambles in the Berwyn mountains to gentle strolls along the River Dee, there's a walk suitable for everyone, and with lots of experienced local guides readily available you can be sure to see the very best North Wales has to offer. Why not take the time to learn a new craft and create new memories in the process? Whether it be learning to paint landscapes, learning about the night sky through a telescope or learning traditional country skills. However you want to spend your time, Rivercatcher is here to help you reconnect, recharge and restore.