Eco-friendly Luxury Cottages and Cabins

At Rivercatcher, our goal is to give our guests luxurious, environmentally friendly holiday cottages and log cabins, limiting our impact on the surrounding environment and supporting the local community. Read about how we're making eco-friendly holidays Wales at Rivercatcher.
Eco conscious luxury cottages and log cabins that don't compromise on style or comfort.
Rivercatcher's Environmental Steps: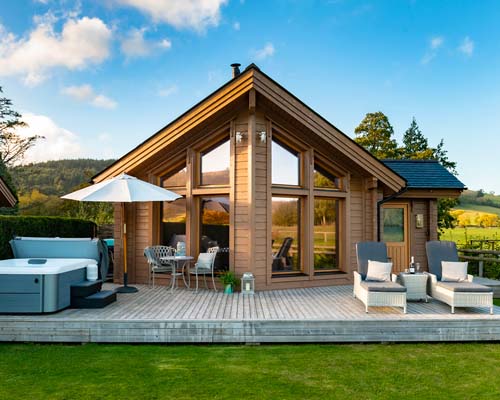 Arctic House Log Cabins
Our state of the art log cabins were carefully sourced and created by Arctic House, an industry leader in sustainable accommodation solutions. Built from renewable materials and offering incredible insulation performance the cabins leave little to no carbon footprint, and due to their large wooden surface areas they even absorb large amounts of of Co2 from the atmosphere (reducing the amount of green house gases). The net sink of an average sized log cabin is approximately 40 tons of carbon dioxide, the equivalent of 20 years of carbon dioxide emissions caused by the private motoring of an average-sized family!
Photo: Lagom Log Cabin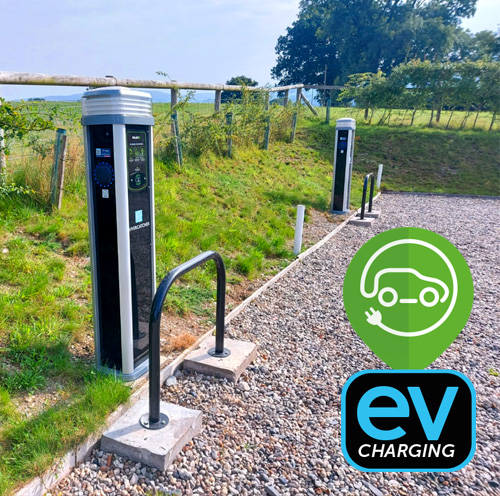 Electric Vehicle Charging Ports
We've installed 4 EV Car charging ports for our guests to use during their stay at Rivercatcher. So you and your family can take day trips out in beautiful North Wales, fully charged and ready to go. An important step for us to take as we transition away from fossil fuels and towards the clean green future.
HOW DOES IT WORK?
Charging is simple at Rivercatcher with the Fuuse EV Charging Payment App. Simply plug in to a charger and then, using the Fuuse App on your phone scan the QR code to start your charging session. When you're ready, just stop the charging session in the app, unplug and away you go!
Get ready before you arrive
Download the Fuuse EV Charging App.
Photo: 2 of our 4 EV charging points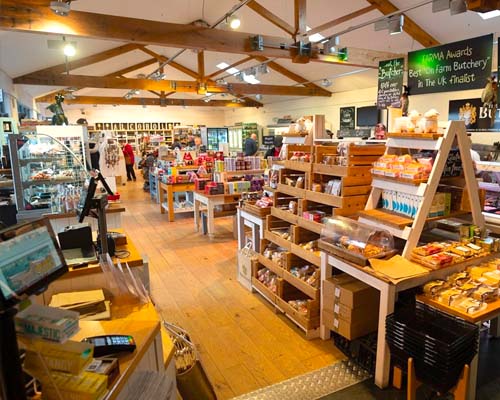 Supporting Local Business
We're teaming up with fantastic local businesses to provide more to the customer with less miles travelled. Whether that be recommending restaurants that serve locally sourced food or working with local people, we are determined to be a responsible ambassador for the local community.
Photo: The farm shop at the Rhug Estate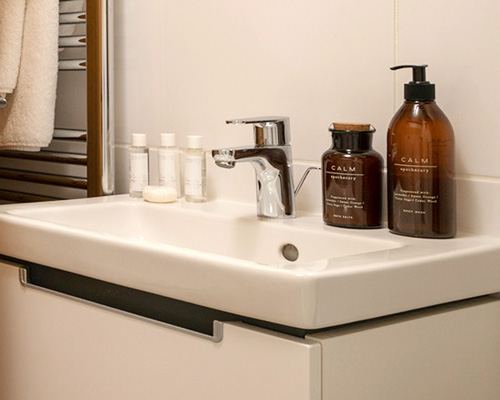 Ethical & Environmentally Friendly Products
What goes down the drain counts so we selected the ethical, luxury brand, The White Company to supply our cottages and cabins toiletries. We also provide environmentally friendly washing up liquid and dishwasher tablets.
Photo: Toiletries in Cilan Farmhouse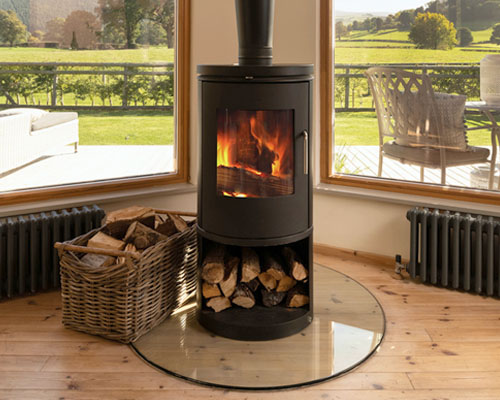 Locally Sourced Fuel
The logs we supply to all our guests are sustainably-sourced, the by-product of essential local forestry management including our own wooded areas. No trees are cut down unnecessarily and this this reduces the amount of carbon dioxide (CO2) produced in transport. We also provide Wood Wool firelighters where the burning is CO2 neutral and has no smell or chemical components!
Photo: The view and a wood burner in our Log Cabins
Fantastic Wildlife
Rivercatcher is a haven for local wildlife. A sanctuary, creating and preserving natural habitats for our other residents such as Otters, Bats, Owls and Birds. With inhabited bat, bird and owl boxes spread around our cottages and grounds, keep your eyes open and remember to fill out our Wildlife Finder (in the lodge) when you see some of our rarer friends!
As part of our commitment to our natural surroundings, we also maintain our stretch of riverbank. Controlling it's erosion to create a stable habitat for wildlife and for the flora, eradicating non native plants also promotes indigenous species.
Photo: One of the otters seen from the banks of Rivercatcher