The Rivercatcher Wedding Showcase
For a few weekends each Rivercatcher can be yours to celebrate your big day.
Each year we style and dress Rivercatcher and invite you to join us for a day to wander the grounds, explore our ceremony spaces and get to know our hand-picked wedding specialists. After some refreshments while watching the live band you can experience our 5 star accommodation with a tour of Cilan Farmhouse and one of our luxury cabins.
Register for your free ticket >>
Watch the film
Our 2020 Wedding Showcase
Stylized to compliment both our oak gazebo and indoor lodge licensed ceremony paces, both set against the picturesque backdrop of the River Dee and the Berwyn Mountains. We'll walk you through the day so you can experience it for yourself.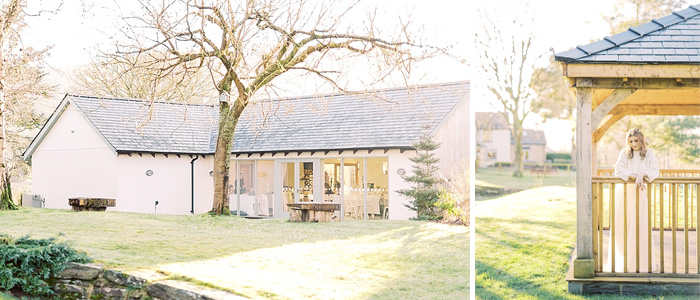 The Lodge – Photo shoots and Canapes
Starting at The Lodge, our indoor ceremony space, guests were able to look through some amazing jewellery from Sara Louise Jewellery to match the Boho Style photo shoot that was going on with our model Grace, Heledd Roberts our photographer was on hand all day to take questions and show off some of her work. And just for temptations sake Outside Catering used our indoor catering kitchen to service up some wonderful canapés to sample.
Lagom Log Cabin – Bridal hair and makeup
Taking a stroll down to Lagom, one of our single bedroom (sleeps 2) you would have found Lindsey and Cathryn, hair and makeup bridal stylists for our photoshoot. On the day they created a subtle and flattering bridal look for our foraging theme. Exploring Lagom would have been treated to the luxury open plan living space complete with log burner and floor to ceiling apex glass windows overlooking the Berwyn Mountains and taken a sneak peek at the romantic 2 person outdoor hot tub.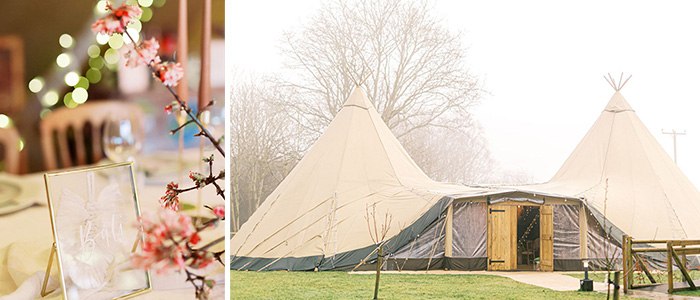 The Tipi – A Wedding Reception to remember
A short walk away, was our wedding reception Tipi, a hub of activity on the day. The Silk Loft Wedding Gowns were exhibiting some of their designs alongside floral arrangements from Tulipa Flowers and Rosehip and Wren. The Function Hub and Cestrian bars were on hand to discuss any queries about catering and hand out some treats and serve drinks. The icing on top of the cake, Hayley's Piped Dreams were there to tickle your fancy with samples of their delicious wedding cakes.
The Tipi itself was illuminated with fairy lights creating a magical and intimate feeling to the day and offered a firepit, surrounded by a relaxed seating area and dance floor for the big party.
Back to the Gazebo – Outdoor Ceremony
Coming out of the Tipi and walking along the riverbank brings you to our outdoor oak Gazebo ceremony space, offering couples the chance to get to know our breath-taking scenery and take it all in. The oak Gazebo was a key feature of the day, bringing together the natural style of our bridal shoot with the stunning scenery of the North Wales countryside. The great thing about a wedding at Rivercatcher is the flexibility to plan for an outdoor gazebo wedding while having the equally beautiful indoor option of the Lodge.
Taking in some stunning group accommodation in Cilan Farmhouse – Sleeps 10
Out of the Gazebo and around the corner was Cilan Farmhouse, one of our private five-star lodges, open to explore. The farmhouse sleeps up to 10 people over 5 en-suite bedrooms, 2 lounges, dining and breakfast room and comes equipped with a relaxing 6 person outdoor hot tub and private garden to treat guests to a secluded and memorable weekend.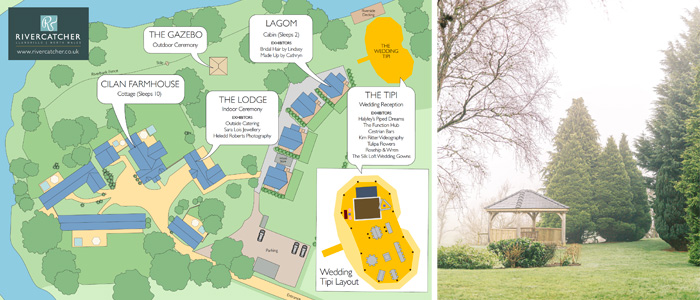 Wedding Showcase Gallery
The Wedding Showcase Team
Jade Leung is our exclusive wedding planner and stylist. She did a fantastic job of orchestrating our showcase and organising a styled shoot to showcase Rivercatcher and all the fantastic suppliers in attendance.
Our wedding photographer Heledd Roberts was also on hand to capture the best moments from the day as well as photographing the styled shoot.
The Silk Loft provided some beautiful wedding gowns to show off including the one used on our model
Hayley's Piped Dreams is our wedding cake partner. As well as providing the cake for our shoot Hayley also treated our guests to some cake samples!
The perfect wedding needs perfect flowers to match! Tulipa and Rosehip & Wren were on hand with their beautiful arrangements and bouquets for our styled shoot
Sara Louis was our jeweler for the day. She provided jewellery for the styled shoot and brought some rings along for our guests to try. Sara also does a bespoke wedding ring service.
The makeup for our styled shoot was done by the fantastic Cathryn and hair was done by bridal hair specialist Lindsey
Vivvi embellish hair pieces added an elegant and floral touch to compliment the shoots natural style.
We also want to thank our stunning model Gracie Jean for bringing to life our dream wedding photoshoot.
On the day we also had live music from The Function Hub, catering from Outside Gourmet Catering and a bar as well as some beautiful samples of wedding stationary by Modern Scribe.
Kim Ritter is a local videographer specialising in wedding videos. She was on hand to document the whole day for us.
All About Me Marquees and Events hire presented their bespoke tipi reception space, offering the option to turn your wedding into a fairytale retreat.
Providing beautiful table arrangements for the special day were Whitehouse Crockery, Silk and Purl, and 88 Events.
How it went
As a result of the success of our showcase we have been featured on the international wedding blog: B.Loved Blog.
The day was an opportunity to exhibit our charming ceremony spaces and private luxury accommodation and was loved by all.
Will there be another showcase?
Due to the success of our January showcase we are organising future events to offer couples the chance to fully explore Rivercatcher again. Please follow us for updates on future events.
Get Your Wedding Showcase Tickets
We are currently planning our next wedding showcase and are really looking forward to inviting you to Rivercatcher again.
Tickets aren't yet available so to make sure you get yours, call and speak to Andy on 01490 440498, send an email to info@rivercatcher.co.uk or follow us on Facebook or Instagram for updates.