Fishing Came First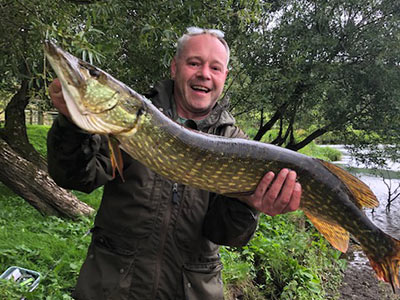 It's from the other side of the bank we first saw Cilan Farm that we would fall in love with and develop into Rivercatcher. Before it started we fished this stretch for many years so we know how ideally situated for game fishing it is.
We have our own short stretch of river which is free for you to use. There are permits for some of the most prolific and beautiful parts of the river. The grayling fishing is arguably as good as anything in the UK. Lyn Brenig is one of the best lake fisheries for trout. We can supply more details on request.
We are enthusiastic anglers ourselves and can provide more info on specific points you may have and can put you in touch with experienced guides if necessary.
Rivercatcher is situated in the centre of the most beautiful and prolific part of the River Dee. The main species are wild brown trout, grayling, sea trout and a lesser number of salmon. We can help you to arrange day tickets for various stretches of river. Available for Llangollen and Maelor Angling and Bala and District anglers. In addition there are many smaller streams and lakes to explore.
Take a look at this short clip to see what the River Dee has to offer
Angling Adventures Around Wales
North Wales is packed with beauty, adventure and great angling opportunities. Located on the River Dee, the heart of fishing in North Wales (the aquatic aorta, if you will), Rivercatcher is the perfect choice for those seeking a relaxed fishing getaway.
Wild brown trout and grayling are all native to the River Dee and within reach of your cottage or cabin. The grayling fishing is considered to be some of the best in the uk. Rivercatcher is positioned on the inside of a bend along one of the most prolific parts of the river.
Tailoring Your Fishing at Rivercatcher
There are numerous fisheries and clubs accessible from Rivercatcher, including the Corwen and District Angling Club, Llangollen Maelor Angling and the Bala and District anglers. These are all situated along the Dee (which is noted as one of the purest rivers in Europe), as well as at many other waters around North Wales. You can even fish down at our very own 150m stretch of the river at any time.
To enhance your fishing experience, there are local guides available to arrange your perfect trip, tailoring the day to suit your needs.
What a Catch!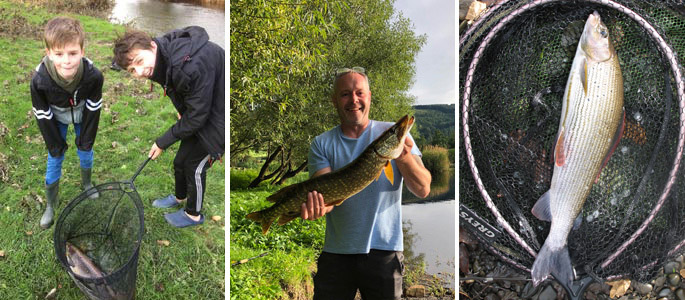 In fact, two of our young guests staying at the Cilan Farmhouse – Dan 13 and Nial 14 – had a wonderful days fishing on our small stretch of river. On the same day in October, Dan landed a 12lb salmon and a 9lb pike with Nial as his gillie. Both fish were caught on spinners method.
Relaxing Here at Rivercatcher
And speaking of an accompanying fishing friend (gillie!) why not stay at our Ghillie's Cottage? It's in the name! Just imagine it: four nights away, enjoying the incredible views of the river, reminding you of why you love to fish in the first place.. Sleeping two, it's the perfect retreat for you and your fellow angling amigo, or simply extra-bed space (in our award winning Burgess Bed) to spread out and snooze after a long day of fishing. And let's not forget the private hot-tub, shared games room and the wood burning stoves – with logs provided! Meaning you can ditch the travel logs you always keep by your front door in case of emergencies, leaving you with ample room in the boot of your car for your fishing gear.
Need more space to accommodate for a whole group? Then a three night break staying at our Flyfisher's Cottage is exactly what you're after. It is the ideal opportunity for you and five other fishing fanatics to exercise your knowledge, with this riverside cottage providing the perfect view of the river. This luxurious, three-bedroom space is perfect for you to get back to nature with your friends or family or just a large hover of trout. Or you could avoid nature completely, and transform your outdoor fishing expedition to an indoor Netflix marathon, utilising the free Netflix service and grand, soft bathrobes available at your leisure. We highly recommend you do both.
Perhaps you're a lone fisher, keen to get away and challenge yourself? If that's the case, then the Cwtch Log Cabin is ready, arms wide, waiting for a cwtch (pronounced kutch and Welsh for cuddle). Perfect for a week long retreat, enjoy all the features available; the rustic style kitchen, the cosy fireplace and the mountainous views, before ending the day by soaking in your private hot tub, a relaxing reward to celebrate your triumphs. And if you want more animal acquaintances by your side then don't worry! This dog friendly cabin is the ideal spot for you and man's best friend.
The Ultimate Angling Affair
Sound good so far? Good! Great! If you love fishing along delightful rivers (and even if you don't, you soon will), are partial to comfortable cottages that feel like home, and have a soft spot for the scenic, sweeping beauty of North Wales, then take advantage of our mid-week prices, because this is exactly what you're looking for. After a tranquil and leisurely stay here, you'll leave us with a heart full of memories to cherish for a lifetime, no doubt intent on returning again.
Because this is a truly one of kind place for a perfect angling adventure. Mountains, rivers and crisp white bed linen – what more could you possibly need?

For more information on fishing in other areas around North Wales: Fishing in North Wales
North Wales Angling Websites
Corwen and District Angling Club
www.corwenanddistrictanglingclub.co.uk
Llangollen and Maelor Angling
www.llangollen-maelor-angling.com
James Waltham Game Fishing
www.jwflyfishing.co.uk
Bala and District anglers
www.balaangling.co.uk
There is also first class Reservoir fishing at Llyn Brenig which has 920 acres.