Relax in your Private Hot Tub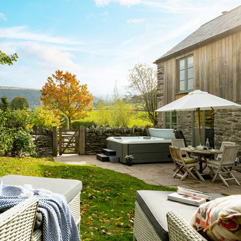 Take a dip…
After spending your day taking country walks, sightseeing and enjoying the outdoors, what can be more welcoming than relaxing in a hot tub.
Whether you're sitting under starry nights, watching golden sunrises, catching falling snow or marveling at the changing leaves a hot tub will give you some of the best memories a holiday can give.
Rivercatcher cottages with hot tubs
For your indulgence, each of our 5 luxury cottages comes with their own HotSprings hot tub, each cleverly positioned to ensure your privacy and provide fantastic views across the River Dee or Berwyn Mountains. Take this all in while the innovative jets give a soothing massage.
So if it's a romantic break and you want to slip into the warm steamy water with champagne or you want to enjoy the unique moments with friends and family only a hot tub can provide take a look at our cottages and come and join us soon.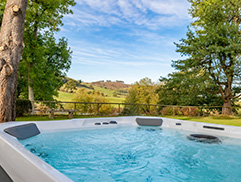 Cilan Farmhouse
SLEEPS 10 PEOPLE
Perfect for the family gathering or party. Cilan Farmhouse's 6 Seater hot tub is situated on the large patio with views over the garden, valley and the River Dee.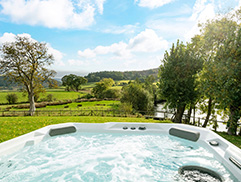 Gamekeeper's Cottage
SLEEPS 8 PEOPLE
Gamekeeper's Cottage's 5 Seater hot tub is situated at the end of the long private terrace with views over the valley and west down the River Dee.
More about Gamekeeper's Cottage >>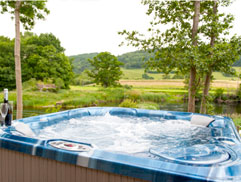 Flyfisher's Cottage
SLEEPS 6 PEOPLE
Flyfisher's 5 seater hot tub sits on the lower part of the split level terrace perched on the banks of the River giving you a wonderful view to watch the water swirling round the old railways bridge posts.
More about Flyfisher's Cottage >>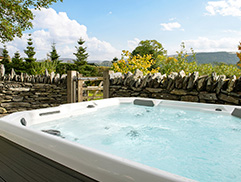 Shepherd's Cottage
SLEEPS 4 PEOPLE
Secluded and private, Shepherd's Cottage's 4 Seater Hot Tub is situated in your garden with views across the valley to the Berwyn Mountains.
More about Shepherd's Cottage >>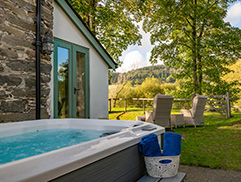 Ghillie's Cottage
SLEEPS 2 PEOPLE
Perfect for a romantic hot tub break. Ghillie's has a 2 seater Hot Tub nestled in your own private courtyard garden with views over the valley and the River Dee.
More about Ghillie's Cottage >>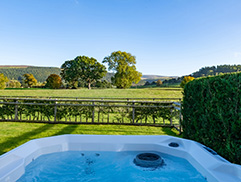 Log Cabins
SLEEPS 2 PEOPLE
Making the most of the views over the beautiful Berwyn Mountains, each Log Cabin has it's own private 2 seat hot tub to while away the hours.
The health benefits of hot tubs
Make the hot tub part of your daily routine and feel the proven benefits.
Experience physical benefits, like the relief of stress and tension from sore muscles, getting better sleep, as well as improve your feeling of wellbeing. When immersed in the warm water, you can disconnect for a few precious moments and feel like all is right in the world.
The physical wellness benefits of hot tubs are delivered in three ways: heat increases circulation by dilating blood vessels, buoyancy relieves joint stress by reducing your weight by 90%, and powerful jets soothe away tension with massage. All of these elements work together to provide a variety of health and sleep benefits.