Manage Your Booking
Simple management with our 24/7 Guest Area
With our guest area, you can manage your stay with us, adding extras, making payments including your balance payment and find out more information about things to do, how to get here and other great options to make your stay even more special.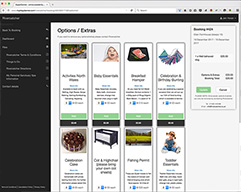 Booking Management Features:
Make your balance payment
Request Baby and Toddler Packages
Add and pay for extras such as fishing permits and breakfast hampers
Add and pay for your dogs to stay plus book dog welcome packs
Download and print details of things to do, places to go and directions to Rivercatcher
Get details of Spa Treatments and Celebration Packages
Add names of the guests
View your previous bookings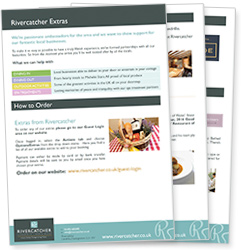 Rivercatcher Extras

During your booking you can view all the additional things to do including dining out, locally sourced food, spa treatments and a range of activities in our Extras pdf.

How to Log in
Step 1 – Click the login link
Clicking the login link will open the Guest Area login page in a new Browser Window
Step 2 – Not logged in before?
If you've not logged in before you should click "Don't have an account? Sign up". You are then asked to confirm your unique booking number which you can find on your booking confirmation email, the email address you used to make the booking and to set up a password for future logins.
Step 3 – Been here before
If you have signed up previously, you can login using the email address assigned to your booking and chosen password. If you have forgotten the password you can use the password reminder feature on the login page.