Your Guide to Adventure in North Wales
Swing, Spring and Soar!

Misleadingly no, it's not a coat zip museum. It's much better than that. Spread across three locations all within an hours journey – it won't be long before you're soaring along Velocity 2, the fastest zip-line in the world (and the longest in Europe) at Penrhyn Quarry, zipping through the air at over 100mph and admiring the beauty of Wales below.
Over at Zip World Fforest, continue to tackle the skies and it's near neighbours in treetop nets on the fforest-coaster, zip safari and the skyride (a giant swing for you and your friends),to shriek elatedly as you soar from 80ft in the air. If you'd prefer to be as far away from the sky as possible, then you can head over to the Slate Caverns, to bounce around their six gigantic underground nets. Bounce Below is Zip World's thrilling, springy, underground playground, where you can unleash your inner child (or your actual child, if you've brought them along, too). See? There's a lot to do already, just in Zip World alone. It's like Disneyland has pulled up its adventure pants and emigrated to a beautiful pocket of Wales.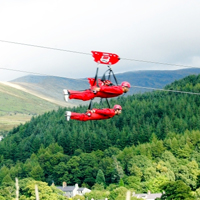 Location: Penrhyn Quarry, LL57 4YG
Distance: 43 miles, 1 hour 10 min drive
Age: minimum 10 years
Price: from as little as £65 mid-week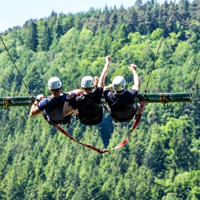 Location: Betws-y-Coed, LL24 0HX
Distance: 28 miles, 45 min drive
Age: minimum 7 years
Price: £10 per person, for up to 5 people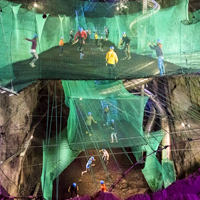 Location: Slate Caverns, LL41 3NB
Distance: 28.5 miles, 50 min drive
Age: 7 to 12 years plus participating adult. 13 to 17 years plus a spectating adult (1 adult per 7 children)
Price: from £20 per person for an hours experience