Your Guide to Adventure in North Wales
Summer's bounding head first towards us and Rivercatcher is ready and waiting, with our adventurous arms wide open.
We want to ensure that your time here in North Wales is as epic as possible and no matter the season there are many activities on offer.
Staying at Rivercatcher is already the perfect start. If you're looking for something fun, exhilarating and mind-blowing (but in a summery way), then you've journeyed to the right place. There's a variety of activities to have a go at, venturing from land to sea and sky. To fit them all in you'll need a good few summers here, but that's okay! In fact it's great! Rivercatcher will be waiting excitedly for your return.
So here are some of Wales' ample, adrenaline-fuelled adventures:
THE HIGHLIGHTS
Perfect for Young Families
Perfect for Families with Teens
Adventures for Couples
Adventures for Groups
Stag and Hen Experiences
Swing, Spring and Soar!

Misleadingly no, it's not a coat zip museum. It's much better than that. Spread across three locations all within an hours journey – it won't be long before you're soaring along Velocity 2, the fastest zip-line in the world (and the longest in Europe) at Penrhyn Quarry, zipping through the air at over 100mph and admiring the beauty of Wales below.
Over at Zip World Fforest, continue to tackle the skies and it's near neighbours in treetop nets on the fforest-coaster, zip safari and the skyride (a giant swing for you and your friends),to shriek elatedly as you soar from 80ft in the air. If you'd prefer to be as far away from the sky as possible, then you can head over to the Slate Caverns, to bounce around their six gigantic underground nets. Bounce Below is Zip World's thrilling, springy, underground playground, where you can unleash your inner child (or your actual child, if you've brought them along, too). See? There's a lot to do already, just in Zip World alone. It's like Disneyland has pulled up its adventure pants and emigrated to a beautiful pocket of Wales.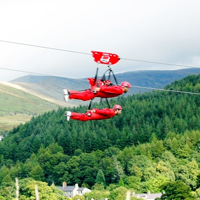 Location: Penrhyn Quarry, LL57 4YG
Distance: 43 miles, 1 hour 10 min drive
Age: minimum 10 years
Price: from as little as £65 mid-week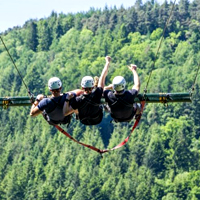 Location: Betws-y-Coed, LL24 0HX
Distance: 28 miles, 45 min drive
Age: minimum 7 years
Price: £10 per person, for up to 5 people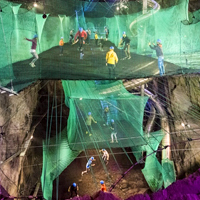 Location: Slate Caverns, LL41 3NB
Distance: 28.5 miles, 50 min drive
Age: 7 to 12 years plus participating adult. 13 to 17 years plus a spectating adult (1 adult per 7 children)
Price: from £20 per person for an hours experience
Exploring the Forest Trials on Foot or by Bike

If you'd prefer to put your feet to good use rather than let them dangle freely at Zip World, then this is for you. Located in Coed Llandegla Forest, only a thirty minute drive from Rivercatcher, One Planet Adventure is the UK's leading forest visitor centre. There are four marked footpaths leading you on scenic walks (or adrenaline fuelled trail runs) with distances ranging from 2 miles to 7 miles and a network of mountain bike trails for all abilities. There's numerous courses available, to advance those biking skills so that you can return, year after year, and laugh manically as you showcase your talents by flying past all the wobbly beginners.
Whether you're a mountain biker set on conquering the black route trail or looking to spend time with nature, wandering with your family along the Black Grouse walk, then the 
incredible views in all directions at One Planet Adventure will make it all more than worth it.
Location: Coed Llandegla Forest, LL11 3AA.
Distance: Distance: 19 miles, 30 min drive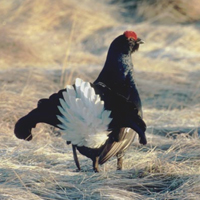 3.5km/2 mile trail, perfect for bird and butterfly spotting. Cost? The best things in life are free (and priceless).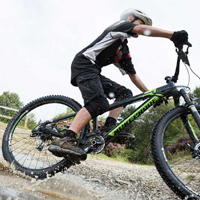 approximately 5km, perfect for families. Price: the retail price of the biscuits that are fuelling your expedition.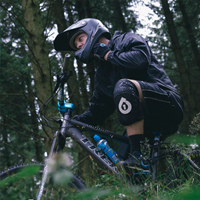 series of 6km black runs, designed for experienced mountain bikers.
from £90 per person, on available dates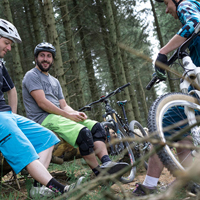 a standard hardtail hire bike (full day): £35. A premium full suspension hire bike (full day): £80.
Ropes, Rapids, Karting and Paintball

Looking for somewhere a little closer to (your luxury Rivercatcher) home? As well as some of the best adventures in the UK as our close neighbours, we also have adventure on our doorstep. Let's Get Wet. In just a two minute drive or fifteen minute walk, you can be at the Get Wet Adventure high ropes and paintballing centre! With a multitude of activities including paintballing, gorge-walking, paddle-boarding, white water rafting, abseiling down waterfalls, Go-Karting in a really snazzy jumpsuit, and exploring rivers like you've never done before, there really is no shortage of things to do.
With a range of Activity Package options on offer – including Get Wet and Get Wetter, or Rapids and More Rapids – you can dip your enthusiastic feet into a bit of everything. River rafting is situated only twenty minutes away from Rivercatcher so you, your friends and family can craft some rafts and build some unforgettable and sturdily-designed memories. This isn't just a place for daredevil adults – with family deals available for all ages, then the whole courageous clan can come and experience, explore and enjoy.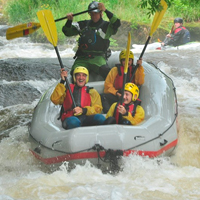 Family Rafting – Family Package
VISIT THE SITE
Location: River Tryweryn, Bala, LL23 7NU
Distance: 10 miles, 20 min drive
Capacity: minimum family of 4
Price: £187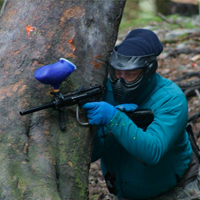 Location: Coed Craig-Crogen, LL21 0SY
Distance: 0.5 miles, 2 min drive, 12 min walk
Capacity: minimum 8 participants for up to 3 hours
Price: from £17 per person, including an endless supply of gas and 200 paintballs (the essentials!)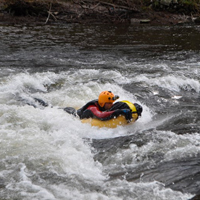 Extreme River Bugs (if you're going to be a bug, it might as well be an extreme one)
VISIT THE SITE
Location: River Tryweryn, Bala, LL23 7NU
Distance: 10 miles, 20 min drive
Age: minimum 16 years (and able to swim)
Price: £65 per person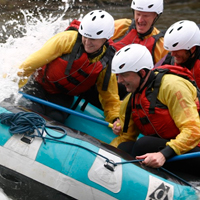 Rapids and More Rapids – Activity Package
VISIT THE SITE
Includes: a whole day on the rapids, merging rafting with extreme river bugs
Location: River Tryweryn, Bala, LL23 7NU
Distance: 10 miles, 20 min drive
Age: 16 years (and able to swim)
Price: £117
And there's more!
Forage, Navigate and – Most Importantly – Survive!

If it's not just a thrilling activity you're after, but also the ability to survive in the wild, then this will be right up your wooded, snow-capped street. Positioned on the borders of Snowdonia, Original Outdoors are specialists in essential outdoor skills including foraging along the estuaries, navigation based in the mountains and survival training at a variety of levels for different lengths of time. With a range of different experiences, you can gain and enhance your outdoors skills, learning what it truly means to be at one with the wilderness.
And they work with everybody! Whether you're part of a production company scouting out the next idea for a Nat Geo documentary, or simply an individual determined to out-forage the pesky squirrel that's pinching everything from your garden – then there's no shortage of activities to indulge in.
Location:
Ruthin, LL15 1UL. Distance: 20 miles, 35 min drive.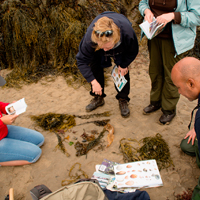 Perfect for Families – Single Day Activities
Night Navigation Course: – exploration after dark (ooOOooOOooh). £30 per person.
Costal Foraging Walk: – a two hour long introduction to wild foods along North Wales beaches. £30 per person.
Bushcraft Basics: – a 1-day introduction to wilderness skills, requiring no experience, only a decent pair of boots and plenty of snacks! £65 per person.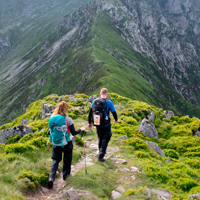 For Skilled Survivalists
Contour Mapping Workshop: – for those with previous navigation experience, looking to enhance their skills further. £40 per person.
Skills Development Weekend: – to put those sharpened bush-craft and wilderness skills of yours to practise in a real world environment. £65 per person.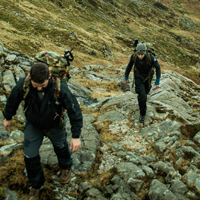 Stags and Hens Activities
Level 1 Mountain Survival: – a typical stag/hen do to Vegas might be wild, but so is, you know, the wild. So why not shake it up a little and spend your last days as a lone traveller by surviving in the mountains of Snowdonia with friends! Dates: 10th – 11th August 2019, at £195 per person.
Basic Navigation: – or perhaps you'd like to avoid high altitudes for a while (just until the hangover has worn off) and instead dedicate your time to mastering navigation along any and all UK trails. Dates: 19th – 20th October 2019, at £95 per person (but you better tie those walking boot laces up quick, because there's only 6 places left!).
Coast, Climb and Conquer!

We've hardly even mentioned the star of the show: Snowdonia, Wales' iconic national park and mountain region, which is host to adventures in every crevice and atop every peak. One of our favourites being Adventure Parc. Located approximately an hour's drive away from Rivercatcher, the journey is justified by the many activities available to sufficiently fill up your day. You've got Surf Snowdonia (a man-made surf lagoon set against a breath-taking backdrop of mountains and forests), coasteering, abseiling, climbing and paddle-boarding, all of which are done whilst admiring the spectacular landscapes of North Wales. Putting the gorge into gorgeous!
And beginning July 2019, you can be the very first to try their newly opened Adrenaline Indoors; an adventure experience full of artificial caving, climbing, extreme-slides, zip-wires and assault courses – all inspired by nature! Your thrilled screams and justified pools of sweat will be the very first in there
Location:
Conwy, LL32 8QE. Distance: 36 miles, 1 hour drive.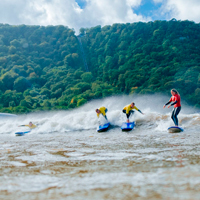 Surf Snowdonia
Surf Lessons: – from the ages 5 and above, surf lessons can be provided to families and individuals, from only £50 per child (8 to 12 years) and £60 per adult.
Waves Sessions: – perfect for those who have surfed before (not necessarily well. But as long as you've had a go). From £35 per person.
Paddle-Boarding: – they're all about being vertical here, so this activity is perfect for all – be it families (minimum age of 8 years) or double dates (minimum group is 4 people and up to a maximum of 8, so that's a quadruple date!). From £35 per person.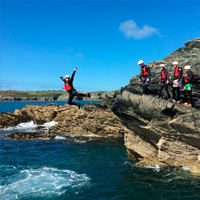 Coasteering
Age: Minimum 10 years
Duration: 2 to 3 hours
Price: From £40 per person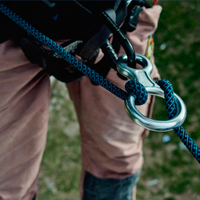 Abseiling
Location: Betws y Coed and Porth Dafarch
Age: Minimum 6 years
Duration: 1-2 hours
Price: From £40 per person

Find more information on all the above activities here here
And all of these activities can be turned into a stag or hen experience! With a 10% discount offered to groups of 12 or more, their events team will organise every step, compiling a perfect itinerary with a little bit of everything sprinkled in!
No Really, There Is. There's More (So Much More)!
What you see above is not at all everything. Not even close.
In fact, because there are just so many exciting experiences and opportunities to harness, a useful tool in planning your perfect trip to Rivercatcher is the Go North Wales itinerary planner. The tourist board website is a great resource, brimming with ideas and activities for you to get stuck into, and a reminder of just how much of Wales there is to try.
And remember, at the end of each muscle stretching, endorphin releasing, cheek wobblingly exhilarating day, Rivercatcher is here to be the calm to your storm with quiet grounds, bubbling rivers, hot tubs, soft beds and long showers, giving you the holiday that you deserve. One (and hopefully many more) that you'll never, ever forget.