Your Guide to Food and Drink in North Wales
The Best Restaurants Near Rivercatcher North Wales
A heart-warming stay at Rivercatcher in any season is spectacular (We're not biased, we're just that good).
But staying with us during the autumn is especially memorable. Our entire grounds become the epitome of cosiness and warmth, a three course meal of crisp leaves, gorgeous views and log burning cabins. And what better accompaniment to this is there than an actual three course meal at one of the many incredible eateries within the surrounding area? Even if you only fancy one course, a quick snack or an award-winning ale, before dashing back to slip on your complimentary robe and lounge by the hot-tubs for the remainder of the evening.
Here's what's on offer around Rivercatcher:
Local to Llandrillo:
The Berwyn Restaurant is a traditional restaurant only a short five minute drive away, serving local British and Welsh cuisine, including both meat and vegetarian dinners and a selection of homemade desserts.
It has accumulated consistent five stars reviews on Trip Advisor, for it's remarkable food, service, value for money and atmosphere – many of these reviews shared by our very own guests here.
AT A GLANCE
Trip Advisor Price Range: £15 - £28
Trip Advisor Classification: British, Welsh
Perfect for: An evening meal with your friends and family and whoever else you can cram into the car (the rest can enjoy the lovely thirty minute walk through Rivercatcher's surrounding areas).

If there was such a thing as Michelin star ratings for luxury log cabins then Rivercatcher would most certainly have a few. So why not stick to that theme and treat yourself to a Michelin star meal at this highly rated restaurant, with both local produce and international foods to reflect the best dishes of the season – dishes such as the incredible deep-fried stuffed courgette flowers (there's nothing fancier than eating flowers).
Check out their lunch and dinner menus here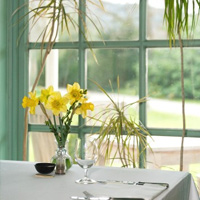 AT A GLANCE
Trip Advisor Price Range: £72 - £73
Trip Advisor Classification: European, British, Welsh
Perfect for: An evening of fine dining out with friends or a worthy crème brulee after a long day of hiking up Snowdon.
Outside of Llandrillo:

Palé Hall is comprised of an award-winning, fine-dining restaurant, situated in the neighbouring village of Llanderffel.It's newly-refurbished, created in association with the Michelin-star chef, Michael Caines and even caters for those arriving by helicopter. A requirement most of us don't even realise we need until we're offered it.
Check out their selection of sample menus below: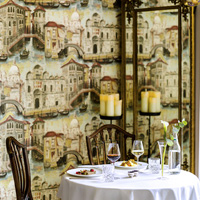 AT A GLANCE
Trip Advisor Price Range: £25 - £85
Trip Advisor Classification: European, British, Welsh
Perfect for: A romantic afternoon tea for two – it's a feast of pure indulgence
Further afield:

The Corn Mill is an amalgamation of classic British cuisine with exotic influences, modern cooking and traditional interiors, water wheels and rising mountains. If you're seeking the ideal spot to enjoy a vegetable Thai red curry or a lovely grilled sea bass whilst admiring the rapids of the mill, steam trains slipping in and out of view on the other side of the bank – then what a coincidence! This is exactly what you're looking for. (Only a thirty minute drive from Rivercatcher).
Check out their menu here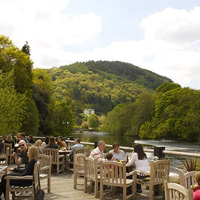 AT A GLANCE
Trip Advisor Price Range: £8 - £19
Trip Advisor Classification: Bar, British, Pub, Welsh
Perfect for: A light lunch with your family, ice-cream with the kids or even a mini pudding and a massive catch-up with your friends.

This authentic Portuguese restaurant is run by the renowned Rui and Michelle, their quirky and enthusiastic personalities reflected in their eccentric décor and welcoming atmosphere. A dining experience here begins with free Artisan bread and ends with a free, complimentary glass of Port. Situated fifteen minutes away in Corwen, their restaurant is the perfect combination of local and international cuisine.
Check out their traditional European menu here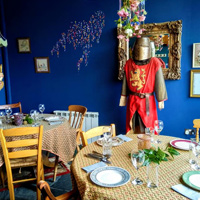 AT A GLANCE
Trip Advisor Price Range: £20 - £40
Trip Advisor Classification: Mediterranean, European, Portuguese
Perfect for: A full evening of fine dining and entertainment with friends, at one of their regular Foodie Nights.